Not your ordinary Microsoft Excel training company.
Our name is pronounced

"Imagine-It"

.
We specialize in cutting edge Microsoft Excel and Excel VBA training.
We also design custom Microsoft Excel apps for industry and small business.
EMAGENIT has been in business since 1998, so we have seen and done lot.
Our focus has always been on what our customer needs solved.
Microsoft Excel training.

EMAGENIT has over 24+ years of Excel training experience that can help show you new horizons on how to think and how to construct things in Excel. Our experience comes not only from teaching, but from designing high-end Excel software for industry.

In our training, we focus on the small details that you need to know in Excel that other training never discusses. We not only explain the Excel steps for some task, we explain why you are doing it, how it fits into the big picture, and how it can be exploited.
Click to enlarge, scroll < > if hidden.
In our Excel training, we not only show you how to use Excel program elements independently, we also show you how to combine them to solve your specific problem. Simple or complex, we have you covered. In the example worksheet above, a simulation is taking place in Excel VBA to produce the results seen in the time area. Excel VBA is also used to control what is seen on the chart when clicking on the form scrollbar. The drawing shapes are dynamically connected to formulas that read the time table and figure out what time index is being displayed in the chart and the values at that index.
Customized customer oriented training in all classes.

Our Excel training philosophy we have used at EMAGENIT since day one is simple, our training is always customized for our customers from the get go. Whether it is a public training workshop or onsite, we instantly adjust our Excel training based upon our attendee's experience and needs.

In our training, we always explain the Excel topics in easy to understand examples, terminology and methods. That said, we also push the boundaries of Excel and you will find our Excel instruction challenging and not "run of the mill".

Above all remember, when you train with EMAGENIT, you are in control of the training not us.
Click to enlarge, scroll < > if hidden.
When customers take our Excel training, many times it is not only to solve a problem or make a report, it is also focus on a look. Our Excel training will show you how to develop looks for your Excel tools that get your projects noticed. In the worksheet example above, pie charts have been formatted with a bevel effect to give them a very sharp edged modern look. ActiveX controls are used to switch between month and year changing the tables that the pie charts read. Dynamically linked pictures are used to display the tables and their conditional format warnings next to the charts.
Our Microsoft Excel consulting can supercharge your Excel project.

Our Excel consulting covers projects that you have already started and need enhanced, that you need to get started on and do not know how to, or just need help on. By using our industry tested Microsoft Excel knowledge, your staff will not waste time and resources investigating topics that we already know and have used for many years.

We also provide a life time guarantee on all of our Excel consulting so if something goes wrong down the road from our wrong, we will always fix it for free.
Click to enlarge, scroll < > if hidden.
A lot of what EMAGENIT does in consulting is taking what a customer has, making it more capable, making it more organized, making it easy to upgrade and last adaptable to changing data. We are also tasked with making the end Excel tool look high tech and cool. In the example above, charts are used to read machine output data every hour from a SQL Server database. Formatted shapes have been used to enhance the charts and also to dynamically link to machine values and display them. Conditional formatting is used to color the Alert area based on per hour values.
Excel consulting we can train you on.

At EMAGENIT, we can not only help jump start or enhance your Excel project ourselves, we can also provide instruction on how we did it turning it into a class. Many companies have used this strategy to help jump start their Excel projects quickly and bring their staff up to speed so they can take it over later.
Click to enlarge, scroll < > if hidden.
Another aspect of EMAGENIT consulting is taking customer reports and enhancing their looks and reducing construction time. In the example above, Excel VBA is used to create a simple Sunburst chart, its table and to then format the chart and table. Drawing shapes are overlaid in the center and are dynamically linked to the table to display the values. VBA was used in the process to speed up the construction time needed to build it out. While complex looking, a beginning VBA user can be instructed on how to do all of it.
Microsoft Excel software design that saves you time and money.

Using Excel, we can build software that outperforms and does more than existing programs on the market at a fraction of the cost. We build Excel software for all business and technical types that spans data processing to modeling to dashboards. We use all kinds of formulas, Excel's built-in features and Excel VBA in the construction process.

When VBA is not enough, we couple Excel VBA with other programming languages like VB.NET, C Sharp, Fortran, ASP, JavaScript and HTML. We can connect you to the web, databases, virtually anything using these tools combined with Excel.
Click to enlarge, scroll < > if hidden.
When EMAGENIT designs Excel software, we combine available technologies to get the job done quickly and inexpensively. From simple Excel VBA macros, to combing Excel data with the web, we do it all. Why combine? Sometimes the best solution is to combine what you have and make them work together. In the worksheet example above, an interface runs Excel VBA code that compiles separate workbook data into a single table and uploads it to the web. Once on the web a VB.Net, HTML, ASP, and JAVASCRIPT based interface displays the data in a chart.
We can tie our Excel VBA software into other Microsoft products.

We can use VBA to automate Microsoft Outlook, Microsoft Word and PowerPoint to build unbelievably powerful report generation devices for your Excel projects. We can also tie into and use Microsoft Outlook and also go after Google online.

Our Excel VBA software can also tie into SQL server, Microsoft Access, Oracle,... giving your software database control. The idea is to use each environment's strengths and making them act as one seamless tool.
Click to enlarge, scroll < > if hidden.
Using Excel VBA to command other office products is a great way to build cost effective, flexible report generation tools Lets face it, what other software company has a custom report software product that rivals Microsoft PowerPoint, Word, or Outlook off the shelf. Excel VBA can interface with these environments easily and seamlessly thus allowing your staff to make and maintain their own reports with the skills they have without having to hire expensive consultants to make small changes. Corporate wide or group wide, we have seen it work over and over again. The example above auto emails machine status through Outlook at a specified interval.
We build our Excel Software Apps in the USA.

Our Excel app design is preformed in the USA in house by EMAGENIT personnel. It is never outsourced to another company or individuals. In other words, your valuable information stays with us and that means your proprietary information always remains secure and NDA's apply.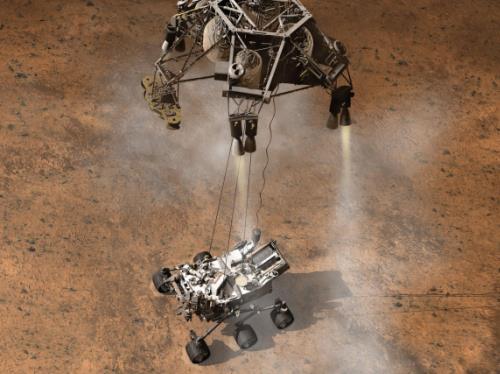 We have designed Microsoft Excel apps for NASA that helped put the MSL Mars Rover on Mars. We have also designed Excel software for many more companies and organizations all here in the US. Using our software skills, we can take a two week task and reduce it down to one minute at the click of a button.
Details >
Need Help? Please call us at 1.805.498.7162
Copyright © 2002-2022
EMAGENIT All Rights Reserved